Continuum Center is an educational corporation organized to explore the nature of consciousness, human capacity, and the interconnectedness of life, for personal, professional and planetary transformation.
Since 1979 we have worked with leaders of science, medicine, business and time-honored cultures to provide new paradigm programming for corporations, schools, healthcare facilities, nursing homes, correctional institutions, communities and individual development.
Join with us in the exploration of the many dimensions of human brain/mind capacity."Major problems cannot be solved with the same consciousness that created them." Albert Einstein
Continuum Center has a range of programs, products and services to help individuals and organizations better understand and operationalize this needed shift in consciousness. We bring forward many forms of evidence that concepts like infinity, consciousness as primary, and a more-than-3-dimensional universe, have very 3-dimensional impact.  Our major "major problems" today are a logical outgrowth of inadequate operating assumptions.  We aim to demonstrate the everyday all-purpose implications of consciousness research in the quantum paradigm.  We need a new paradigm.
Fortunately we have one ready to go.
What's New: Click on poster for more info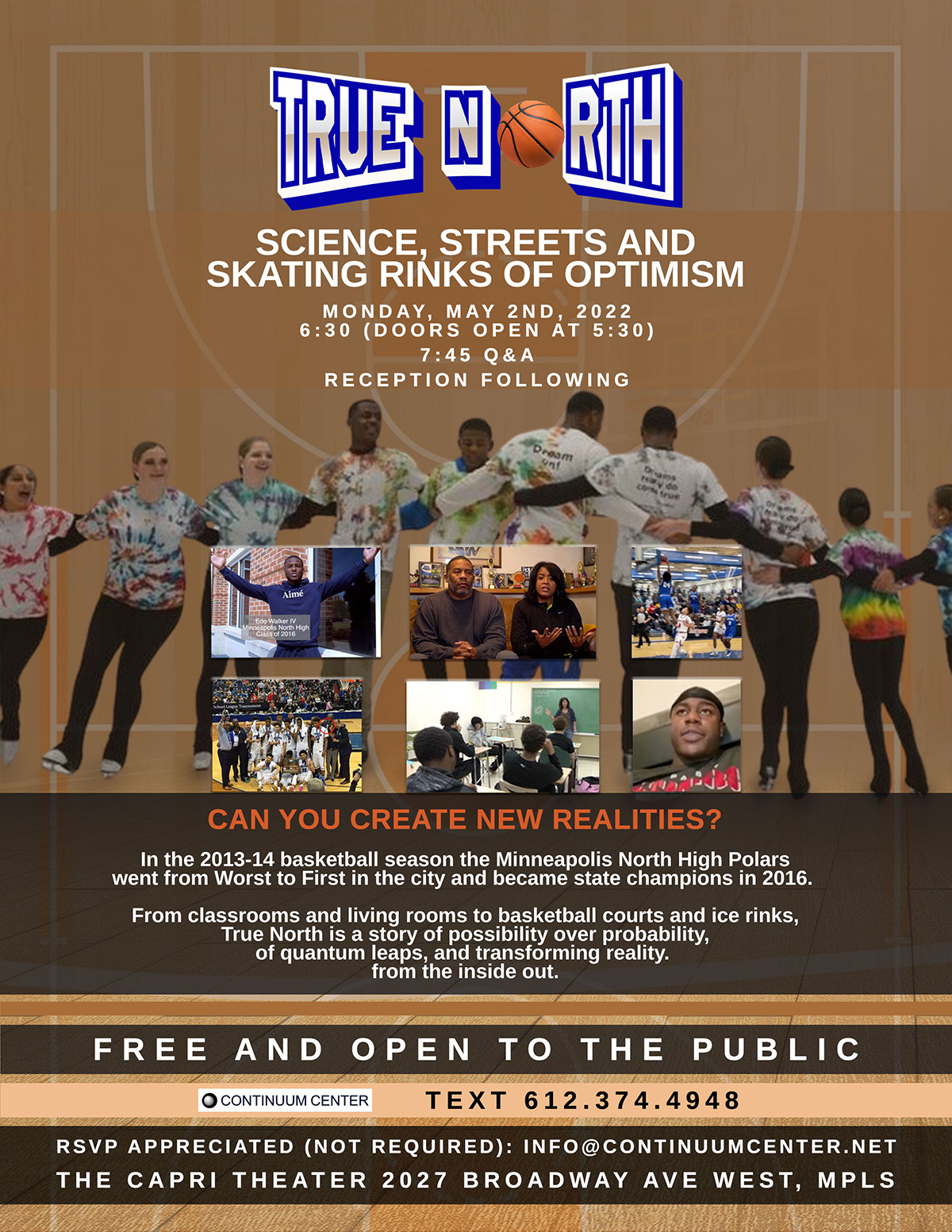 True North: Science, Streets and Skating Rinks of Optimism 9 min trailer:
Sample our Press

Upsize Magazine – Business Builders
Continuum Exhibit to explore consciousness – U-High Midway
LEADERSHIP: What philosophers say about the science of true leadership.
Tevlin: New Age thinking helped turn this North High team around
"Human Capacity" is focus of exhibit
Sample our Media
A discussion on racism: an inside-out response (12 mins):  2021  Featuring three Discovery of Self alumni, Jordan Poeell Karis who led the construction and installation of the 12′ fist a the George Floyd memorial site, business owner James Sott who went through DoS 25 years earlier, and Rudy Tahir, a junior at MN Prep Academy.
PBS: Deep Dish With William Arntz, Jane Barrash host |Change|PBS (One of several segments):  2006
William Arntz sold his successful software company and invested in what became a runaway global film sensation, What the Bleep do we Know?! a docu-drama hybrid on consciousness, quantum physics, addiction, and creating your own reality.   Also featuring Craig Rice (award-winning film-maker and past-president of MN Film and Television Board), Babette Apland (at the time VP of Behavioral Health at Health Partners). Long time educator and past Principal, Jerry Sparby, also appears in some segments. Filmed at Continuum Center.
In the summer of 2020, the Mindsetters program evolved out of Athleadership, training young adults to become public speakers about the transformative concepts and strategies of Discovery of Self that they have been studying and discussing while dealing with the challenges surrounding them. Mindsetters – Voices from North Mpls:
See our directory of "backpage" research compilations and reports
Please contact us for more information about workshops, presentations, and with any questions or comments: 612-374-4948 or info@continuumcenter.net